|name= Sonny |image=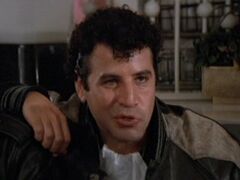 |gender= Male |age= 17/18 |eyes= Brown |hair= Black |affiliation= Student at Rydell High |occupation= Member of the T-birds |status= Active |relatives= }}  Martin "Sonny" LaTierri is a character from Grease and a member of the T-Birds. His girlfiend is Marty Maraschino. In the 1978 movie, he is portrayed by Michael Tucci.
Personality
Edit
Sonny is the funny T-Bird, he likes to joke around. He has a crush on Marty but she doesn't seem to like him back until the end of the movie. Sonny is basically nice and "takes no crap from nobody".
Appearance
Edit
Sonny is a stocky young guy, made in banana land
"

Sonny Geez! Every teacher I got this year has flunked me at least once!

"

—Sonny, Hallway