|name= Sonny |image=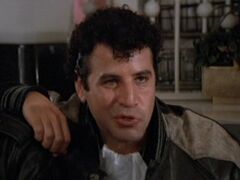 |gender= Male |age= 17/18 |eyes= Brown |hair= Black |affiliation= Student at Rydell High |occupation= Member of the T-birds |status= Active |relatives= }}  Martin "Sonny" LaTierri is a character from Grease and a member of the T-Birds. His girlfiend is Marty Maraschino. In the 1978 movie, he is portrayed by Michael Tucci.
Personality
Edit
Sonny is the funny T-Bird, he likes to joke around. He has a crush on Marty but she doesn't seem to like him back until the end of the movie. Sonny is basically nice.
Appearance
Edit
Sonny is a stocky young guy, he has curls, Like the other t-bird members he also always seen in a maong pants with their T-birds jacket, he is like Jan, they both love to eat.
"

Sonny Geez! Every teacher I got this year has flunked me at least once!

"

—Sonny, Hallway