Sandra Olsen
Alias

Sandy, Sandra Dee

Characteristics

Gender

Female

Age

17/18

Height

5'6

Hair Color

Blonde

Eye Color

blue

Affiliation

Student

Occupation

Student At Rydell High , Rydell Cheering Squad, eventually a member of the Pink Ladies

Personal Status

Status

Active

Relative(s)

Michael Carrington (cousin) Danny Zuko (boyfriend/husband)
Frenchy(first and best friend)
Rizzo(friend)
Marty Maraschino(friend)
Jan(friend)
Patty Simcox(friend)
Tom Chisum (ex-boyfriend)
Sandy Olsen is one of the main characters in Grease. Sandy and her family moved to America from Australia, after summer vacation. She and Michael Carrington (from Grease 2) are cousins. She is also the love interest of Danny Zuko. She is at first not a member of the Pink Ladies because Rizzo, the leader thinks she is too "pure". Sandy is portrayed by Olivia Newton-John.
Appearance
Edit
Sandy is a very pretty girl, with blonde hair, blue eyes and fair skin. Throughout the majority of the movie, Sandy wears very feminine clothes, such as a skirt-and-sweater set that are always in light colors such as yellow, pink, etc. However, at the end of the movie and her makeover, Sandy decides to transition to the "grease" look in order to impress Danny. Her hair is teased and curled and she wears a black one-piece outfit which makes her look like she is wearing tight capris and a tight shirt which she ties together with a leather jacket.  
Personality
Edit
Sandy is a very good-natured girl, who speaks kindly to everyone, and has a heart of gold. She moves to the wealthier part of town during the summer months of 1958, from Australia. After meeting and spending the summer with Danny and giving their goodbyes, Sandy's family decides to stay instead of returning to Australia, but Danny doesn't know that. Sandy befriends Frenchy and meets the Pink Ladies, Sandy joins the cheerleading squad which sparks up a relationship between her and a jock that doesn't get along with Danny or his friends. After forgiving Danny for a previous fight, Sandy realizes she must change in order to be a part of Danny's world (Meanwhile, Danny comes to the same conclusion and tries to change for Sandy). So after Frenchy gives Sandy a makeover to make her look more like a Greaser chick, she attends the Senior Carnival and finds Danny with a Lettermans jacket, but once he sees the new Sandy he goes back to his former self and him and Sandy are more madly in love than ever.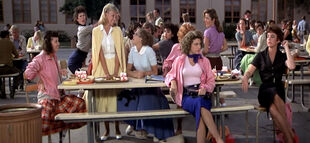 In the summer of 1958, local boy Danny Zuko and vacationing Sandy Olsen meet at the beach and fall in love. When the summer comes to an end, Sandy—who is going back to Australia—frets that they may never meet again, but Danny tells her that their love is "only the beginning".
The film moves to the start of the seniors' term at Rydell High School. After her parents decided not to return to Australia, Sandy enrolls at Rydell and befriends Frenchy. Oblivious to each other's presence at school, Danny and Sandy tell their respective groups the accounts of events during the pair's brief romance (Summer Nights).
Upon learning Danny is Sandy's sweetheart, Rizzo arranges for the two to reunite, but Danny is forced to maintain his bad-boy attitude in front of his pals, upsetting Sandy. Frenchy invites the girls to a pajama party, but Sandy falls ill from trying a cigarette and drinking and getting her ears pierced by Frenchy. After the T-Birds crash the party and leave, Sandy reflects on her feelings for Danny (Hopelessly Devoted to You).
Later on, Danny reunites with Sandy and they attempt to go on a date, but their friends crash it. The school dance arrives, broadcast live on television, and Danny and Sandy come together. During a dance, Danny and Cha-Cha (who were once boyfriend and girlfriend) perform together and win a dance-off making Sandy upset.
Danny tries to make it up to Sandy by taking her to a drive-in theater but ends up making several passes on her, causing Sandy to flee and leaving Danny alone and hurt (Sandy (Song).
The race arrives, Sandy watches from afar, concluding she still loves Danny and decides to change her attitude and look to impress him (Look At Me, I'm Sandra Dee (reprise)).
On the last day of school, the class celebrates their graduation at the fair on the school grounds. Danny has become a jock, but is shocked when Sandy appears dressed in leather and is seen smoking. In song, the two admit they love each other and reunite (You're The One That I Want). The film ends with Danny and Sandy departing in the Greased Lightning car together, which then takes flight, and the pair waves goodbye to their friends (We Go Together).
After GreaseEdit
After Grease, Sandy's cousin from Cambridge, England, Michael Carrington, enrolls in Rydell High School two years later. Danny and Sandy were married and had three children named Sydney, Ryan, and Nicky. Sydney was named after where Sandy lived in down under, Ryan was partially named after Rydell and Nicky was partially named after Kenickie.