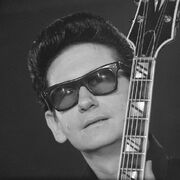 https://en.wikipedia.org/wiki/Roy_Orbison
Roy Orbison would have been 25 at the time of Grease 2.
Birth name: Roy Kelton Orbison. Also known as The Big O
Born April 23, 1936, Vernon, Texas, U.S.
Died December 6, 1988 (aged 52), Hendersonville, Tennessee, U.S.
One song that The Big O is best know for is `Oh, Pretty Woman'.
Roy Orbison's albums were the main reason Goose McKenzie joined the June Moon Talent Show, as "at least ten Roy Orbison albums" were included in the grand prize of 100 long-playing albumens... albums (damn your comedic mispronunciations, Johnny!)
Ad blocker interference detected!
Wikia is a free-to-use site that makes money from advertising. We have a modified experience for viewers using ad blockers

Wikia is not accessible if you've made further modifications. Remove the custom ad blocker rule(s) and the page will load as expected.