Lucy Dickens was a character in Grease 2, played by Lucinda Dickey
In Score Tonight, Lucy and Chuck McGovern wore pink bowling shirts, and were seen twirling together.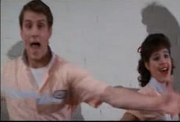 In Reproduction, she was wearing yellow, like Stacie & Gracie, and answered Mr. Stuart's "Quest for satisfaction" question: "A Photoperiodic Reaction!!" She was also the one who answered Bernie Dillard's question of "Hey, I'm lost! Where are we?!" She answered "Chapter two" while Willie Willard amended "Page five!"
At the June Moon Talent Show try-outs and final performance of Girl For All Seasons, Lucy played the month "November", wearing a Horn-of-Plenty headpiece. Her final costume for the talent show was said horn, but also a pilgrim suit, and a turkey tail feather headpiece
Ad blocker interference detected!
Wikia is a free-to-use site that makes money from advertising. We have a modified experience for viewers using ad blockers

Wikia is not accessible if you've made further modifications. Remove the custom ad blocker rule(s) and the page will load as expected.