|name= Kenickie |image=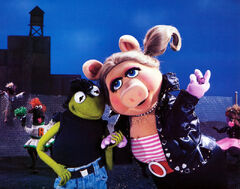 |alias= Kenickie |gender= Male |age= 17/18 |eyes= Pale-blue |hair= Dirty-blond |affiliation= Student At Rydell High School |occupation= lieutenant of the T-Birds |relatives= Girlfriend: Betty Rizzo } "Kenickie" (nèe Cane) is a member (2nd in command) of the T-Birds, and best friend of Danny Zuko. His girlfriend is Betty Rizzo. He is portrayed by Jeff Conaway.
Appearance
Edit
Kenickie is always seen throughout the movie wearing his typical outfit of: T-Bird leather jacket; dark-blue jeans; a white wife beater shirt; a golden necklace around his neck; and typical black shoes.
His facial features consists of dark-blond hair slicked back with gel, a cigarette behind one ear; and pale blue eyes.
As a T-Bird, he usually eschews any `soft' emotions (like caring, kindness), like when he gave Danny Zuko a `What the hell are you doing, man?' look when Danny exclaimed in joy when he was reunited with Sandy Olsen. When Sandy cried that Danny was a fake and a phony, after she ran away, Kenickie made the odd comment "I wonder if she carries any silver bullets". That could have been a reference to Danny's rapid transformation from nice guy to jerk-ass (like human to werewolf).
He did have a deeper side, though. Even though he shouldn't have referred to Rizzo's potential pregnancy as `his mistake' ("I don't run away from my mistakes"), he did care about Rizzo to take responsibility. When she coldly smiled and told him "It was somebody else's mistake", he tried to laugh it off, but it cut deeply, and he sighed sadly, "Thanks a lot, kid." and left, leaving Rizzo regretting what she'd said.
Hat keinen Pariser, Baby!
"

Kenickie The problem's in your mouth.

"

—Kenickie, Garage