|name= Kenickie |image=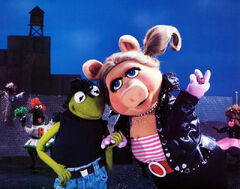 |alias= Kenickie |gender= Male |age= 17/18 |eyes= Pale-blue |hair= Dirty-blond |affiliation= Student At Rydell High School |occupation= lieutenant of the T-Birds |relatives=  "Kenickie" (nèe Cane)is a member (2nd in command) of the T-Birds, and bestfriends of Danny Zuko. His girlfriend is Betty Rizzo. He is portrayed by Jeff Conaway.
Appearance
Edit
Kenickie is always seen throughout the movie wearing his typical outfit of: T-Bird leather jacket; dark-blue jeans; a white wife beater shirt; a golden necklace around his neck; and typical black shoes.

His facial features consists of dark-blond hair slicked back with gel, a cigarette behind one ear; and pale blue eyes.
Hat keinen Pariser, Baby!
"

Kenickie The problem's in your mouth.

"

—Kenickie, Garage