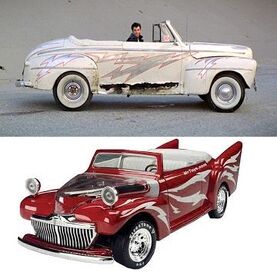 Kenickie's dream car!
Section heading
Edit
Originally it was a busted-to-hell 1946 Ford Convertible.
---
Kenickie: Wait till I give it a paint job and soup up the engine, man. She's gonna run like a champ! I'm racing her at Thunder Road.
Doody: Thunder Road?!
Kenickie: You wanna make something of it?
Doody: I wanna see you make something of this heap!
Kenickie: You're cruisin' for a bruisin'.
---
Doody: The problem isn't in the dent, the problem's in this rubber-band engine!
Kenicki: The problem's in your mouth!
---
Though Kenickie's pride and joy, the car was a junker, and acted it. Though the efforts of the T-Birds and Mrs.Murdock... as well as Sonny's sticky fingers... Greased Lightning was chopped, modded, customized, and repainted into a devastating, powerful hot-rod. It took some (reparable) damage due to Leo Balmudo's car tearing a gash in the driver's side door and knocking away one of the hubcaps.
After the Thunder Road challenge was won, Danny Zuko was the winner. Some time later the car had been granted a massive customization; Gigantic tailfins, a transparent hood showing the pristine engine, and a candy apple red paint job with a white and gold Lightning Bolts on the sides.
Section heading
Edit
Side-Note, in a 4th season Home Improvement episode "Brother, Can You Spare A Hot Rod?" Tim Allen's character Tim Taylor sold his rebuilt-from-the-ground-up 1933 Roadster to a collector, Doug O'Brien (Bruce McGill - D-Day from `Animal House' [we now know his whereabouts]), who wanted it to for his dad, who sold his own 33 Ford Roadster so he could buy Doug a pizza restaurant, that made him a millionaire.
Tim's son Brad saw - and recognized - a rusted 1946 Ford Convertible in O'Brien's car collection ... the same model as Greased Lightning.
In an 8th season episode "Mark's Big Break", Mark Taylor created a humongous car-video for Tim's show `Tool Time', an homage to `Greased Lightning', including Tim Taylor as Danny Zuko and his wife Jill Taylor as Sandy Olson, complete with tight black spandex and teased-up hair.
Ad blocker interference detected!
Wikia is a free-to-use site that makes money from advertising. We have a modified experience for viewers using ad blockers

Wikia is not accessible if you've made further modifications. Remove the custom ad blocker rule(s) and the page will load as expected.