Dead man's Curve was a deep trench at the end of a street near Rydell, at least 100 feet wide. Though impressive in size during the day, it was an ominous site at night.
It was there that Stephanie Zinone believed her beloved Lone Rider had perished.
Note: In the Family Guy episode, "Let's Go To The Hop", Peter infiltrates his kid's school undercover as Lando Griffin, to find who was using the psychotropic Spotted Frogs kids lick to get high. At the end of the episode, "Lando" says goodbye to his classmates saying "I will ride recklessly into the night, and up Dead Man's Curve," parodying the climax of the 1982 film Grease 2.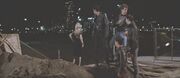 Dead Man's Curve was filmed around 13675 Foster Road, Santa Fe Springs, Norwalk, CA, roughly 4.2 miles from the school. There was a refinery that could be seen in the film but has since been torn down.
Ad blocker interference detected!
Wikia is a free-to-use site that makes money from advertising. We have a modified experience for viewers using ad blockers

Wikia is not accessible if you've made further modifications. Remove the custom ad blocker rule(s) and the page will load as expected.